Autumn means the long awaited return of the Pumpkin Spice lattes, something that seems to be like Marmite amongst everyone, you either love them or you hate them. Well, I wanted to do some pumpkin spice themed baking and thought, "Why not add a little twist to a traditional cupcake recipe?", so that's exactly what I did!
For those who may be a bit "ick" when they hear about a recipe containing the word "pumpkin", don't fret... There isn't a pumpkin in sight.
If you follow me on Twitter, you'll be aware that I attempted to make these cupcakes earlier in the week using a completely different kind of recipe, which did in fact include pumpkin, it's safe to say that they basically exploded. I suppose that's what I get for trying to stray from my traditional way of baking, we learn from our mistakes!
Waste of a pumpkin though!!! >:(
Moving on from that catastrophe, I decided to stick with your bog standard vanilla cupcake recipe, I will write the one I used below but any recipe is fine, they all taste the same anyway.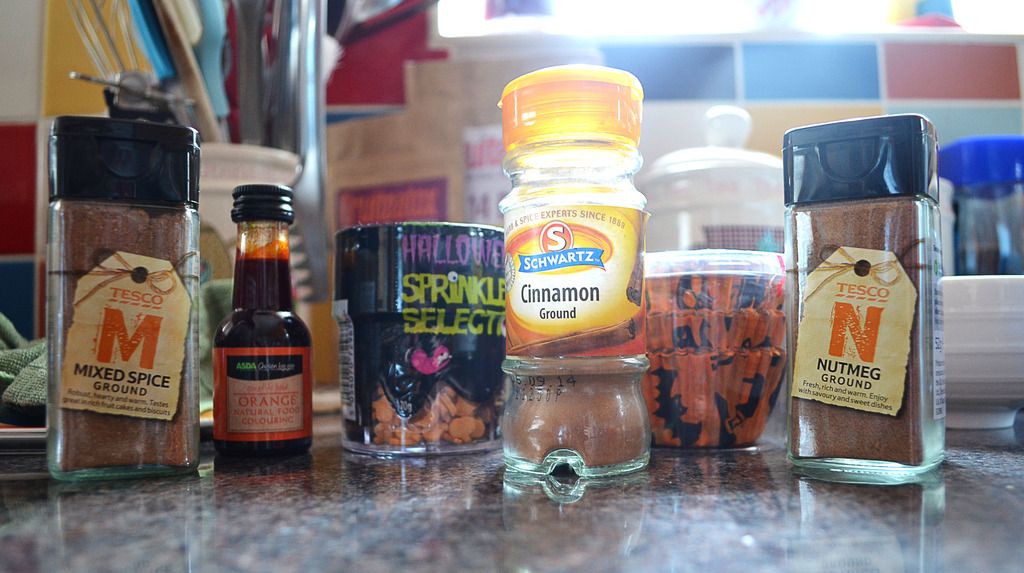 Cupcake ingredients
100g Unsalted Butter (softened)
100g Caster Sugar
2 Eggs
120g Self-Raising Flour
2 tbsp Milk
2 tsp Vanilla Extract
1 tsp Nutmeg
1 tsp Mixed Spice
2 tsp Cinnamon
Few drops of food colouring (Optional)
Method
1. Preheat the oven to 180°c/Gas Mark 4. Tip the butter into a bowl and add the sugar, using a hand whisk or wooden spoon to cream the two together until a creamy consistency.
2. Crack 1 of the eggs in and whisk before then adding the other. Pour the flour into the bowl and use a wooden spoon to work it into the mixture.
3. Add the milk, vanilla extract, spices and food colouring and mix until you have a smooth batter.
4. Pour your mixture into cupcake cases and bake in the oven for 12-15 minutes or until the tops are golden brown and a knife comes out clean when inserted into the middle of the cupcake.
Buttercream ingredients
150g Unsalted Butter (softened)
250g Icing Sugar
2 tsp Vanilla Extract
Cinnamon (Measure to taste)
Few drops of food colouring
Milk (if necessary)
Method
1. Put all the ingredients, minus the food colouring, into a bowl and mix together using a wooden spoon.
2. Slowly add the food colouring (too much could end in a disaster) and beat until it is incorporated into the mix.
3. Apply to cupcakes with knife or a piping bag and decorate with your choice of sprinkles.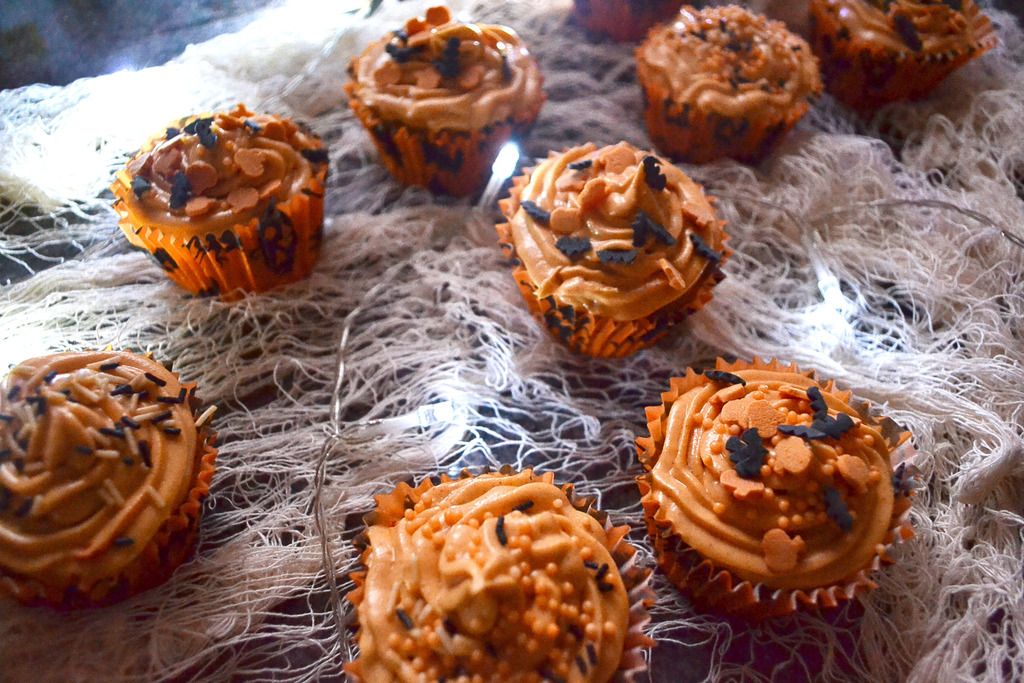 These honestly taste incredible if I do say so myself and were so easy to make, I'd highly recommend giving them a go!
Have you ever made anything pumpkin themed?