Eyelid primers were never something I really raved about as I was yet to find one that worked for me. That was until I heard about the release of
Benefit's Air Patrol
!
If you are a lover of all things Benefit and an avid Twitter user like myself, you may have noticed a while back the mini campaign Benefit were running involving free samples of their new product, Air Patrol! A few of my lovely blogging friends forwarded the link to me so I was able to get my hands on one before they were all gone - who's going to turn down a freebie, eh? (Extra brownie points to the person at Benefit who came up with this idea!)
A couple of weeks later my sample arrived and OMG, the packaging... I can't, honestly, Benefit get it so right every time! It arrived with a little boarding pass containing brief information about the product, which I really think is the cutest thing ever as I am a sucker for quirky packaging.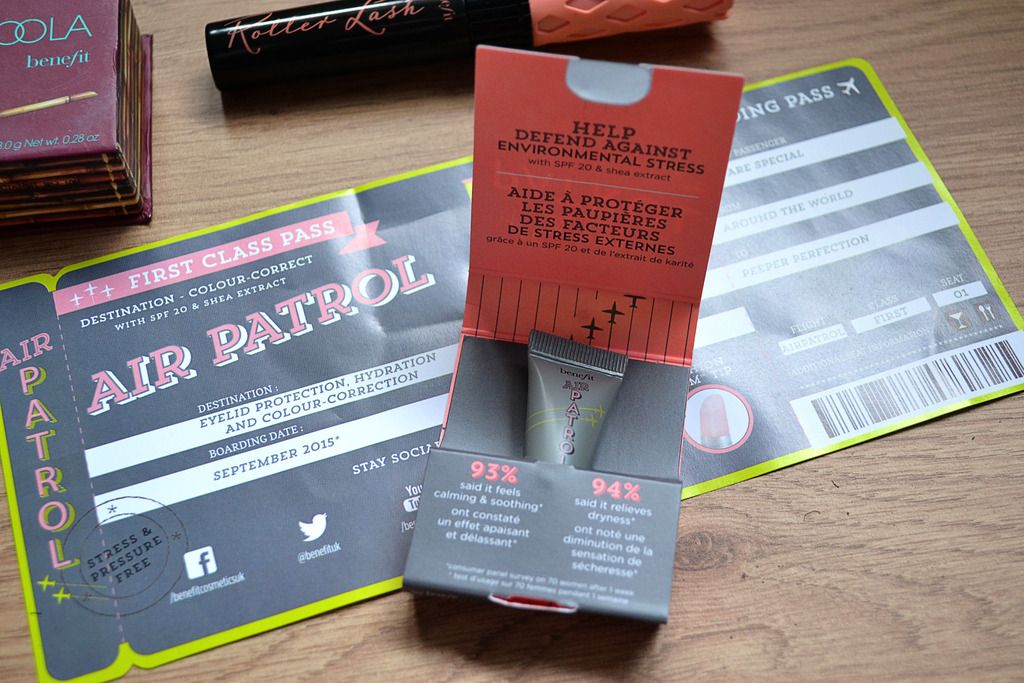 The product is described as a "BB Cream Eyelid Primer" which claims to lock on eyeshadow, hydrate and colour correct as well as containing SPF 20, always important!
I can't say I have noticed a difference in terms of colour correcting, but my gosh, it is a brilliant primer. For someone who has naturally very oily eyelids, wearing eye make up can be an utter nightmare for me some days. I end up with eye-liner imprinting on my brow bone and my shadows just look greasy, not cute.
Air Patrol has completely changed that for me, I wear it under my eye make up most days now and nothing budges, it's a miracle! The only marks left on my brow bone are from my mascara, the only downside to having long eyelashes, oh the struggles.
As it is only a sample, I don't think it's going to last me for very long, meaning I will need to get my hands on the full sized product ASAP - mainly so I can try the cushioned tip, don't judge me.
If you struggle with finding an eyelid primer that combats oiliness, I would absolutely recommend trying a sample of Air Patrol, it makes such a difference!
Have you tried Air Patrol? If so, what are your thoughts?