Christmas is over. They are words I really didn't want to type but it's time to face the facts. I now have no excuse as to why I'm still eating everything in sight.
I planned on having a little blogging break after Christmas in order to get my mojo back but guess what? My mojo is back and here to stay, starting with a collab!
Me and Sophie from Shy Life Living decided to team up and bring you our favourite things of the month. So here are my beauty favourites from December.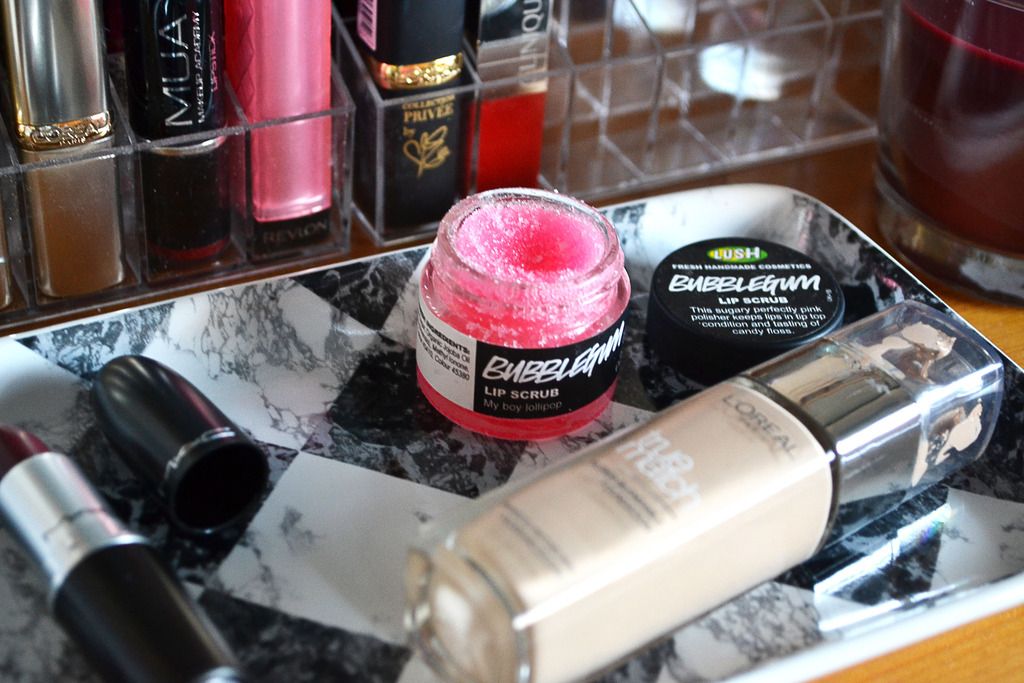 Lush Bubblegum Lip Scrub
It's Winter, it's cold and our skin needs that extra bit of TLC to keep it feeling soft, that includes lips! Lip scrubs have been one of my staples for years now and to be quite frank, I'd be lost without it. I don't feel complete without having used it and it's damn tasty too. Do try to refrain from eating it (even though I have in the past, sorry not sorry).
L'Oreal True Match Foundation
You may remember me babbling on about the L'Oreal Infallible Matte foundation in my Autumn Essentials that was posted back in November but it's fair to say I do regularly switch up my foundation now.
Recently, I've been reaching for my trusty old True Match foundation as I love the finish it gives me, especially since it's been reformulated. My skin has been struggling a lot lately due to my insomnia playing up and lack of water so this product is just what I need to give me a lovely, healthy glow. Since getting back into this foundation, I tend to wear it with just a simple contour and highlight, no blush.
MAC 'Diva' Lipstick
I may have only owned this lipstick for 3 days, but it's going in my favourites whether it's against the rules or not. Anyone who knows me will be aware that I've wanted to own this shade for so long and it so much happens that I was lucky enough to receive it for Christmas! My year is made.
The colour is perfect and exactly as beautiful as I thought it would be and not drying at all. As it's a MAC lipstick the pigmentation is bound to be amazing and so is its durability, I managed to eat my Christmas dinner without it budging one bit.
Sophie and I also wanted to include a couple of non-beauty/fashion related favourites, just to mix it up a little you know.
ban.do Gold Ringleader Diary
How long was I looking for this planner you ask? TOO LONG. Unless you get the ban.do 18 month planners as soon as they're released, they're impossible little buggers to track down... Well, they were for me anyway.
This product is everything I could ask for in a planner. It's spacious and also includes monthly and weekly pages. Bloggers need all the space to write everything down. I find it so useful when it comes to planning out my schedule (which I may do a post on soon) and it's just aesthetically pleasing really.
Meg Says
For my final favourite, I wanted to include a Youtuber who's Vlogmas I have been loving this past month! So many people have been doing Blogmas, Vlogmas and every other type of "Ogmas" there is but Meg's videos definitely stuck out to me.
Meg is so lovely and down to earth, her personality shines through which means it's hard not to enjoy her videos! She also gives a lot back to her viewers which I respect a lot and I would definitely recommend heading over to her channel or blog.
Make sure to check out Sophie's blog and say hi as her post includes her fashion favourites from December! Her photography is stunning and just total goals ok. You need Shy Life Living in your life.
What are your December favourites?
I hope you all had a wonderful Christmas and stay tuned as I'll be sharing with you what I got for Christmas on Wednesday!
bloglovin • twitter • instagram • pinterest