Instagram... One of the most influential social media platforms of this generation. You're either obsessed or you hardly touch it, there's no in-between. Along with Instagram comes the dreaded themes. An Instagram theme changes everything. Generally, they increase traffic and are more appealing to the eye, meaning more followers for you... But I'm not babbling on about that today.
For me, I personally like the "themes" as I enjoy things that are aesthetically pleasing and hey, they never hurt anybody. Today I thought I would share with you how I take my Instagram photos because I actually tend to forget what I do to edit my pictures, I'm a muppet I know.
* FIRSTLY, Take a clear photo!
It is absolutely essential that the photo is clear for me personally. I really don't enjoy looking at pictures that have too much going on. I mean, it's an Instagram photo not 'Where's Wally?'. It usually takes me roughly 10-20 attempts to get the perfect angle and composition. Yes, I take it very seriously.
Good lighting, clear backgrounds and light/pastel colours are what I tend to go for, not a grainy photo in sight.
* SECONDLY, The editing!
This is the part where I get confused. So many apps, so many filters! It can be overwhelming to say the least. I actually only use two photos, sometimes just one if I'm not feeling a filter.
PS Express - If you haven't heard of this app already, it's basically Photoshop for your phone and totally free! PS Express is great for altering the exposure, contrast etc. of the Instagram as it still keeps the quality of the photo, it's my fave.
Afterlight - For when I'm feeling spontaneous and fancy, I head to Afterlight for filters. I usually just use the filter 'Russ' but to be honest, I'm trying to step away from the whole filter side of Instagram. I'm over it.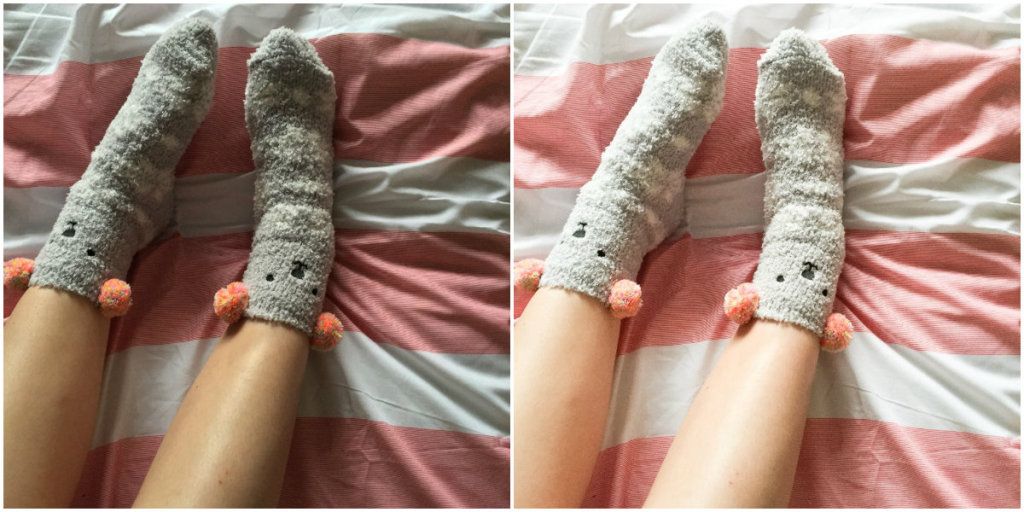 (Before and after of a photo edited through PS Express)
* THIRDLY, Post it!
That's all there is to it really. I always shoot my photos in the square frame on my iPhone so no cropping is necessary. Things get a little tricky if I want to use a picture taken on my DSLR but I ensure everything fits in the perfect, little Instagram square.
What are your thoughts on Instagram themes?
bloglovin • twitter • instagram • pinterest