It's been a while since a baking post, it's been a while since I've baked actually. Today's treat is for those who have a very sweet tooth and don't mind being covered in marshmallow and goo.
Being British, s'mores aren't really a thing here but I suddenly had a brainwave. S'mores brownies! These are the perfect indulgence for a cold Winter night. Warm them up and accompany them with a few scoops of ice cream and I guarantee you'll be in heaven.
Ingredients - The Crust
+ 133g Digestive Biscuits
+ 83g Unsalted Butter (melted)
+ 1tsp Brown Sugar
+ Cinnamon to taste
Ingredients - The Brownies
+ 3 Eggs
+ 250g Caster Sugar
+ 60g Plain Flour
+ 50g Cocoa Powder
+ 125g Unsalted Butter (Melted)
+ 15g Chocolate (I just threw in chocolate chips)
+ Marshmallows
Method - The Crust
1. Preheat the oven to 180 C/350 F and grease or line your brownie tin.
2. Crush the biscuits and mix in with the melted butter, brown sugar and cinnamon in a large bowl until they're well combined.
3. Spread the mixture onto the base of your brownie tin before placing in the fridge for 5-10 minutes.
4. Place onto the middle oven tray and bake for 7 minutes. Whilst doing the brownie mixture you should allow the crust to cool.
Method - The Brownies
1. Once the crust is baked, turn the oven down to 170 C/325 F.
2. In a large bowl, beat the eggs and caster sugar together until light and fluffy. Add the cocoa powder and flour, continue to beat until mixed.
3. Incorporate the melted butter into the mixture, add your chocolate and mix well.
4. Pour the mixture onto the crust and spread evenly across the tin. Bake in the oven for 35 minutes.
5. Once the brownies are out of the oven, place marshmallows on top and put under the grill until they become golden. KEEP AN EYE ON THEM OTHERWISE THEY WILL BURN.
6. Once the marshmallows have been grilled, place them back into the oven on a lower heat. Bake until the marshmallows have expanded across the brownies.
7. Take out of the oven to cool and decorate with whatever you fancy. (I chose leftover chocolate chips and chocolate sauce)
The last couple of steps I decided to wing it, hence why the instructions aren't that accurate. It's a case of keeping an eye on the marshmallows and praying they don't burn. As for the overall recipe, feel free to adjust the amount of ingredients to suit your brownie tin. It's all trial and error when it comes to baking!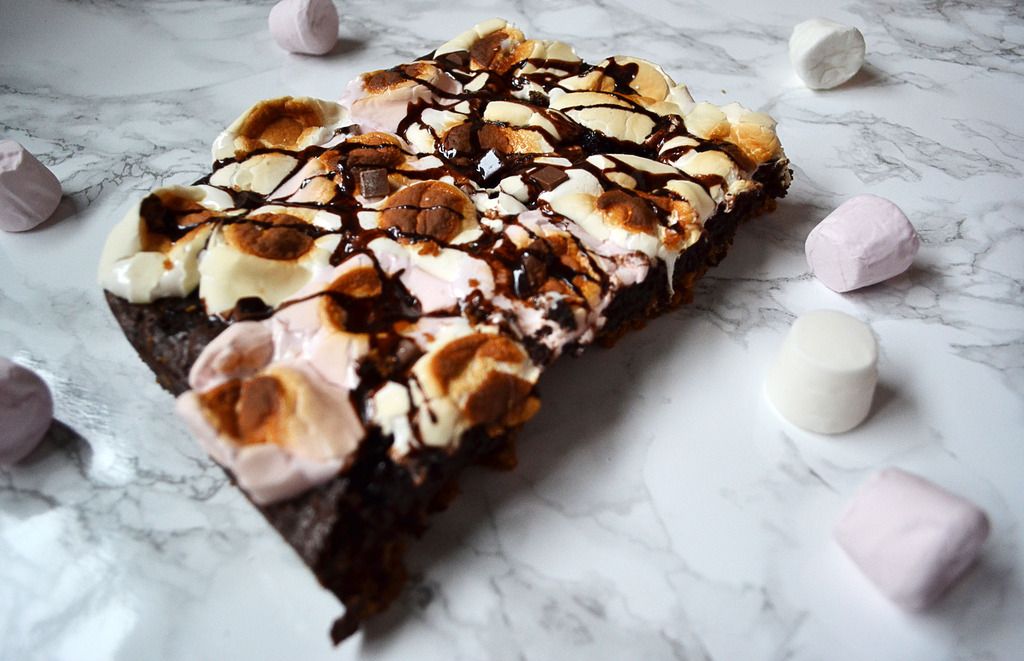 Do you like the look of these? If you have any recent baking posts, leave them below. I'd love to see!
bloglovin • twitter • instagram • pinterest